Lend a Hand
Join the thousands of Topekans who have donated time to help their friends and neighbors in need.
Check out the volunteer opportunities we have available!
Year-Round:
Clothing Bank

Sorting, folding and drying clothes
Food Bank

Packing food orders and hygiene packs, organizing food pallets
Drivers

Collecting donations from area restaurants and businesses
Unloading

Unloading and organizing deliveries
Seasonal:
Chrismas Store

Sorting and collecting Christmas donations
Voices from the Neighborhood
"A place to go to feel GOOD! I enjoy the time I spend at Doorstep meeting new and old clients and friends. A great organization I can't say enough good things about!"
An opportunity to share with those who need food, clothing, support and an ear to listen."
"This is an opportunity to give back to my community and love my neighbors — to share a portion of God's gift to me!"
"A great opportunity to help others. It provides a needed source of community services."
"An opportunity to serve others and glorify God."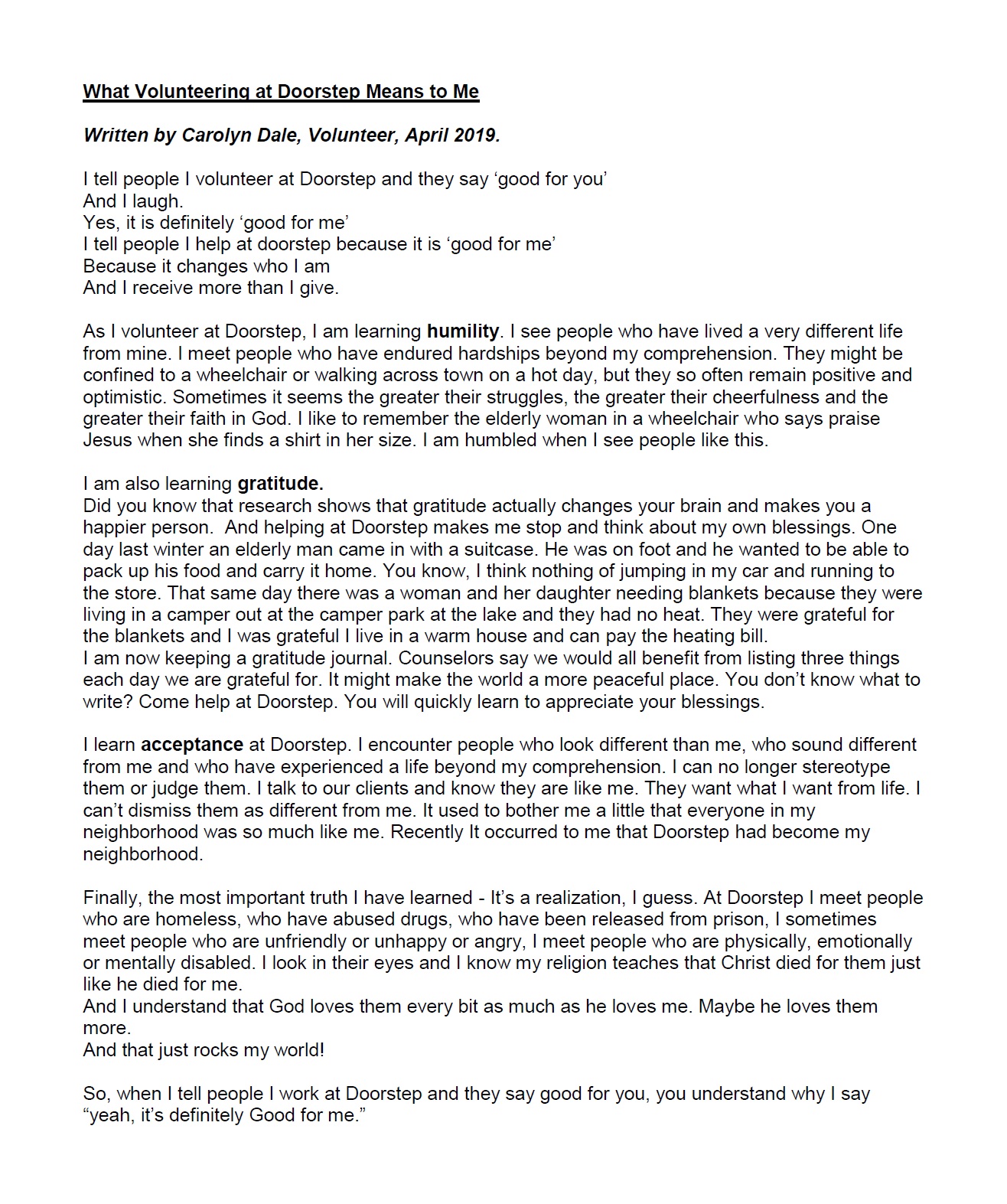 Ready to reach out to your community?
General Information
Rent Assistance requests must go through the City of Topeka's EAS Program. You will most likely need to leave a message and wait for a call back.
EAS Phone: 785.368.9533
EAS Email: EAS@topeka.org
Website: https://www.topeka.org/eas/
Utility Assistance is by appointment only. Please call us at our number below to see if funds are available.
Address
1119 SW 10th Ave.
Topeka, KS 66604-1105
Office hours: Monday-Friday 8 a.m. - 3 p.m.
Client service hours: Monday 9:30 a.m. - 1:30 p.m.
Tuesday-Friday 9:00 a.m. - 1:30 p.m.
Phone: 785.357.5341
Fax: 785.232.4865